April 28, 2017
About the operation of Golden week
We would like to inform you that Golden Week will be coming soon. How have everyone been spending your time recently? We will inform you about the closing of Golden Week.
Holiday period: May 3 (Wed) - May 7 (Sun)
March 31, 2017
We helped you to renew OKguard's website.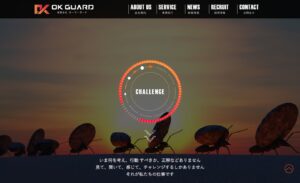 This time, we renewed OKguard's corporate website.
It became a website which is stylish design based on OKguard's corporate color orange and charm of the hot feeling of the president.
Also, OKguard is planning to expand its business, and together we plan to expand our home page.
OKguard co., ltd website:https://ok-guard.co.jp/
February 9, 2017
We adoption information was added.
February 3, 2017
We was added the service page.
January 27, 2017
We renewed our website.
We renewed our website.
"Make an intangible thing in shape" this is a our motto, I would like to seek further evolution to make enterprises, innovative proposals, and services that are fun and interesting as well.
We look forward to your patronage and support, thank you for your continued support.